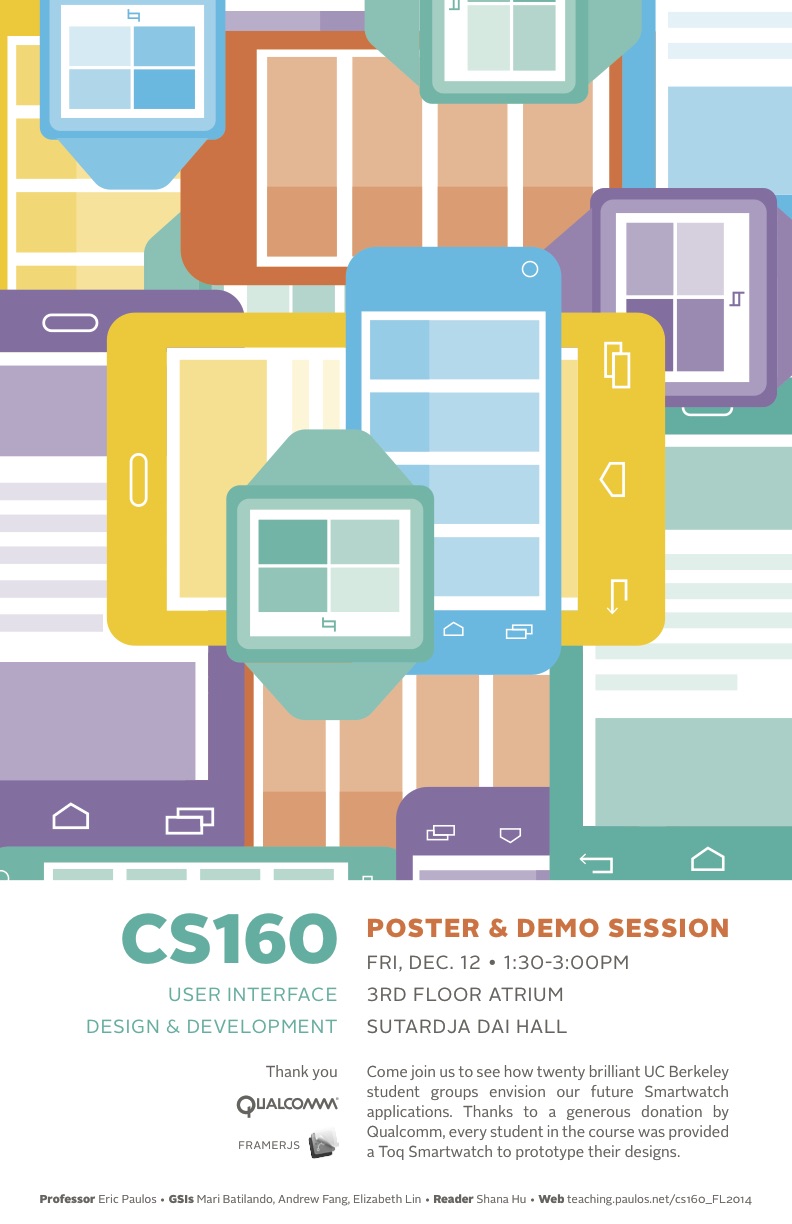 THIS SEMESTER: SMARTWATCHES!!!
During the Fall 2014 semester, students in Berkeley's User Interface Design Course (CS160) developed a suite of new experiences around the Toq Smartwatch platform.  Thanks to a generous donation by Qualcomm, every student in the course was provided a Toq Smartwatch to prototype their designs.  Come join us to see how 20 brilliant Berkeley student groups envision our future Smartwatch applications.
Check out all of the student work from the semester in the showcase page or directly within Hackster.io
20 exciting projects to experience:
GeoExplorer: Watch based app for hikers
Chordstar: Now everyone can learn to play guitar
Language Time: Your Chinese language learning tool on your wrist
Discovery: Retail shop, real time discounts
Spotter: Your 21st century gym workout has arrived
Woqy Toqy: New Communication tools for security guards
ToqNod's Spatial Audio: Toq + Nod Ring for controlling spatial audio
Petit: Your first watch based pet
Watch Out: Providing safety and protection through your smartwatch
Eat Time: A new approach to Reservations and Dining
Presentation Prompts: Enhance your presentation skills
Flight Tracker: Watch based airport and travel navigation tools
Opportune: Modernizing the personal networking experience
ShopHop: On-the-go Shopping
Toq Weight Trainer: Meet your new gym trainer in a watch
Restaurant Assistant: A new watches based tool for restaurant servers and staff
Constructive: Improving  on the job construction industry tasks one watch at a time
Drop: Your new recommendation system has arrived (on your wrist)
Assassins: Team building taken to the next level
FYFN: Watch based urban encounters
---
Photos from the 2014 Fall Course:
CS 160 is an introduction to Human Computer Interaction (HCI). You will learn to prototype, evaluate, and design a user interface. You will be expected to work within a group of four or five students in this project-based course. The project topic will be proposed by your group, and your implementation will be tailored to your users' needs based on interviews with them.
In contrast to most of the other CS classes at Berkeley, CS160 does not focus on particular algorithmic techniques or computer technologies. Instead, you will make use of technology to develop your applications, and you will acquire some expertise in the development environment you choose. The focus of the course is on developing a broad set of skills needed for user-centered design. These skills include ideation, needs assessment, communication, rapid prototyping, algorithmic implementation and evaluation.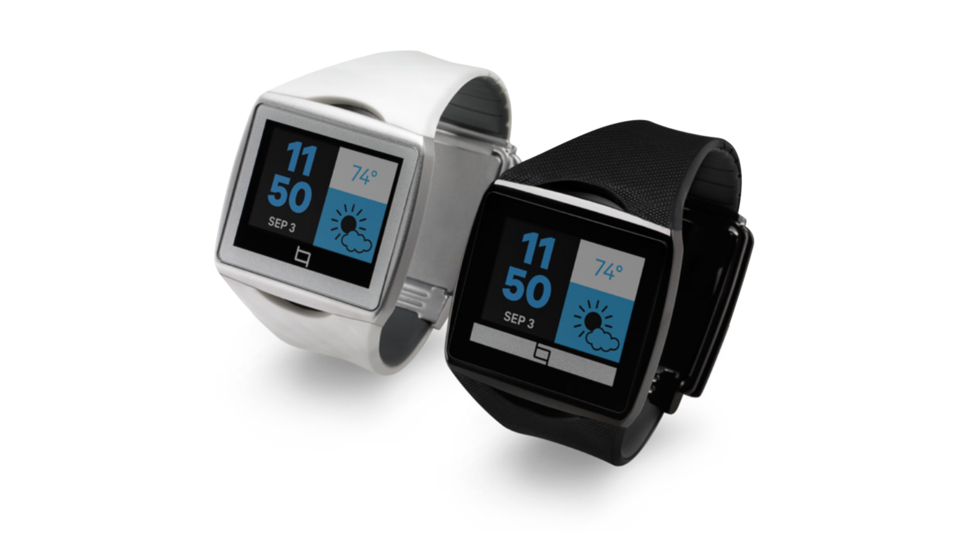 Project Theme: Thanks to a tremendously generous donation by Qualcomm, every student in CS160 will be provided a Qualcomm Toq smartwatch and Bluetooth headset for use this semester.  We are extremely thankful to Qualcomm for such a generous donation. Thank you!
As a result of this donation, projects in CS160 will focus on mobile smartwatch applications.
Mobile applications present unique opportunities (e.g., sensors, camera) and challenges (e.g., text input). The class will explore both the design of mobile applications as well as mobile smartwatch interactions and experiences. Each team will be developing applications using the Google Android SDK and the Qualcomm Toq Smartwatch SDK. Every student enrolled in the course will receive a Qualcomm Toq Smartwatch for use during the semester. Every student will also be required to own or purchase an Android phone that can be used for development, deployment, and evaluation of their individual and team based assignments.
Enrollment: Enrollment from the waitlist for CS160 is based on an application the instructor will distribute on or before the first day of lecture. If you are able to enroll, you are guaranteed a spot in the class but if you are on the waitlist then your position on the waitlist will not matter.